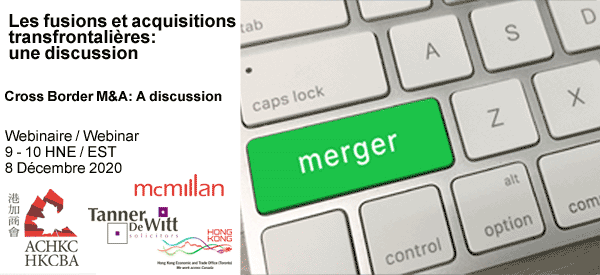 Scroll Down for AFF Special offer
Have you been wondering about the state of M&A activity between Hong Kong, China and North America during this time of COVID and international trade tensions? Our one-hour webinar featuring legal and financial practitioners from Asia and Canada will provide you with a current depiction and outlook for cross-border transactions between these markets.
Moderator:

Drew Dorweiler, Co-Managing Director
IJW Dorweiler Ltd.
Board member
HKCBA-Montreal

Speakers :

Emily Mo, Director
Hong Kong Economic and Trade Office (Toronto)

Raj Dewan, Partner




Capital Markets and M&A Group




McMillan

Pádraig Walsh, Partner,




Tanner De Witt

Eric Cardinal, Senior Director, Currencies & Corporate Advisory
Velocity Trade

Chris Tran, Partner - Singapore
North Ridge Partners
This is a free webinar, however pre-registering is required
* The link to join the webinar will be sent to you the day before the event
with support from:
Special Offer
Asian Financial Forum (AFF) - Complimentary Registrations
Our Cross Border M&A: A discussion webinar participants are eligible for complimentary registrations to the Asian Financial Forum (online + possible offline) to be held January 18 – 19, 2021 ( Hong Kong time ) details: https://www.asianfinancialforum.com/
The AFF is Asia's premier platform for global leaders in government, finance and business to network, exchange insights and intelligence as well as business and investment opportunities including the latest fintech innovations and next-generation business ideas.
20 complimentary registrations are available on a first-come-first-served basis.
Registration deadline is December 15, 2020.
Contact: Adrienne Ho at adrienne.ly.ho@hktdc.org for registration.