NOUVELLES
Golden Lotus - A Spectacular Montreal Premiere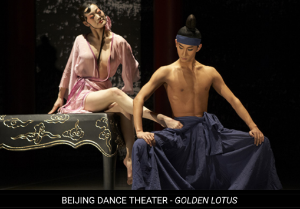 OCTOBER 1 & 2 - THÉÂTRE MAISONNEUVE
THE MOST SENSUALLY ENTICING CHINESE BALLET!
"…Powerfully danced, tightly choreographed, beautifully designed and musically rich." - The New York Times
Prohibited in China for its sexual and politically charged content, Golden Lotus, the ballet inspired by the 17th century naturalistic novel Jin Ping Mei, had its world premiere in Hong Kong in 2011 and has since toured the world to unanimous rave reviews - Germany, Italy, Holland, England, Denmark and the USA - Chicago, Washington and New York.
Commissioned by the 39th Hong Kong Arts Festival, Golden Lotus tells the story of the beautiful namesake of the dancer whose lust for true love causes her entanglement in a web of passion, and deception.
The magic and mystery of Golden Lotus brings the audience into a wild yet sensual story which remains timeless and powerful today, leaving spectators enthralled and in awe!
EXCLUSIVE 20% DISCOUNT
PROMO CODE: 20LOTUS
To buy tickets or get more details: Place des Arts website
Growing

We are pleased to announce that the Hong Kong Business Association (Cambodia) has become a new member of the Federation. 
The Federation has now grown to having 41 association members from 30 countries and regions.  The expanded network offers more opportunities for business networking and intelligence exchange among all associates.
Additionally, we are delighted to welcome seven new affiliate members (i.e. chapter/section of a member association) have joined our Federation family.  They are Qingdao, Tianjin, Wuhan, Chengdu, Hangzhou, Shenyang and Harbin sub-groups under the Hong Kong Chamber of Commerce in China.  Details of the new affiliated members will be available on the Federation website soon.
HKCBA-Montreal welcomes the Hong Kong Business Association (Cambodia) and the sub-groups of the Hong Kong Chamber of Commerce in China to the Hong Federation of Business Associations Worldwide. We look forward to meeting more Federation member associates at the Hong Kong Forum in November!
---

Montreal Rocking Awards With a Double

HKCBA-Montreal Section and HKCBA-Toronto GTA Section have won the Best Initiative Award in North America for our HKCBA  Belt and Road Initiative.  This in recognition for generating and developing the momentum for Canada's participation in the Belt and Road Initiative via the Hong Kong platform.  

HKCBA-Montreal member IJW Dorweiler Ltd. have won the Success Story Award, congratulations to Drew Dorweiler and Ian Wooden and we look forward helping in their continued success!

Awards will be handed out at the 17th Hong Kong Forum on Wednesday, November 30th in Hong Kong.

Join us, celebrate!