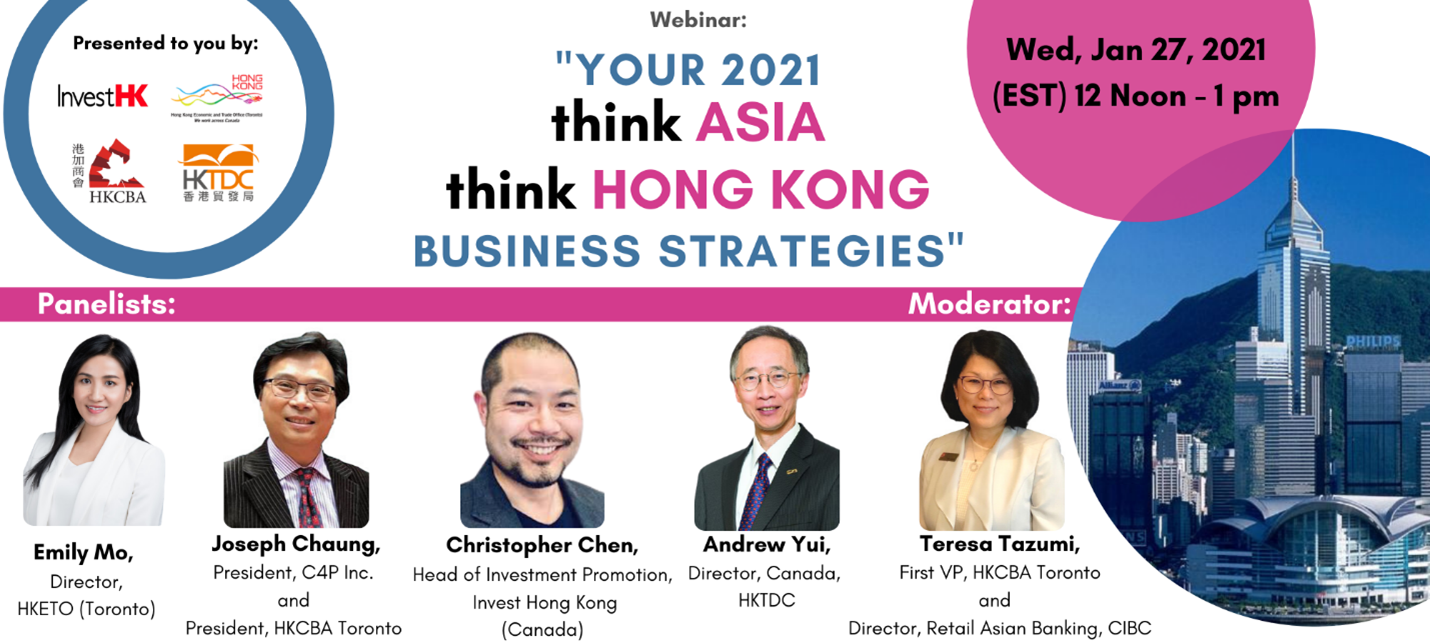 Webinar
"Your 2021 Think Asia, Think Hong Kong Business Strategies"
January 27, 2021 (Wednesday)
(Eastern Standard Time) 12 Noon - 1 pm
The pandemic impact on your Asian business plans has extended from 2020 to 2021. How do you sustain and grow your business connections in the new normal with existing and new partners, buyers, suppliers and investors in Asia before and after the lifting of travel restrictions?
Are the Greater Bay Area (GBA) and ASEAN markets on your radar screens? Are you keeping tab on opportunities in Asia in such sectors as healthcare, clean tech, ICT, food and wine, e-commerce, film, IP monetization, franchising, licensing and others?
This webinar is designed to discuss with you the latest update on Hong Kong and its advantages for your use, insights on possible market potentials and available windows of opportunity in 2021 for your companies. Experience of a Canadian company in leveraging the Hong Kong platform will also be shared. The major objective is to add value to your 2021 Asian business plans.
| | |
| --- | --- |
| Moderator: | Teresa Tazumi, First Vice President, HKCBA Toronto GTA Section and Director, Retail Asian Banking, CIBC |
| Panelists: | Emily Mo, Director, Hong Kong Economic and Trade Office (Toronto) |
| | Joseph Chaung, President, C4P Inc. and President, HKCBA Toronto GTA Section |
| | Christopher Chen, Head of Investment Promotion, Invest Hong Kong (Canada) |
| | Andrew Yui, Director, Canada, Hong Kong Trade Development Council |
Registrations are complimentary.
Reservations are required at this link : http://bit.ly/2021TATHKBiz
For more information, please contact Andrew Yui at andrew.yui@hktdc.org